Swimming and Not Moving
I've been having swimming lessons for the last 8 weeks now, my problem is that I am swimming and not moving. Whenever I start swimming I will get half way and no matter how hard I try kicking my legs and holding a float or using my arms I'm not moving. Can you help?


Kicking the legs whilst holding a float is a tough exercise, even for established swimmers let alone for someone learning to swim.
I will presume that you are kicking with an alternating front crawl type leg kick.
The trick is to have both a relaxed leg kick and a flat body position, preferably with your face in the water.
Your leg kick must be relaxed, with a slight knee bend and very loose ankle, so that your foot acts much like a flipper. The downward beat of the leg kick provides the propulsion and your kicks must be shallow.
This type of exercise is energy consuming and requires a degree of stamina, particularly in the legs.
There is no need to pursue this exercise until it is perfect because other aspects of your swimming are just as important.
Perfecting the body position, arm action and breathing will all effect and help your leg kick technique.
When you introduce your arms into your swimming stroke it is important to remain relaxed and streamlined. By streamlined I mean making your body as long and narrow in the water as possible to help you move through the water efficiently.
Relaxing into your swimming is the key, as sometimes the harder you try, the less relaxed you become and then the more you sink!
You could try swimming in slow motion. You will definitely be relaxed and you may be surprised at how far you get without really trying.
div class="desktopOnly">
Simple Swimming - The Book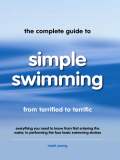 learn all 4 basic strokes
learn how to breathe
boost your confidence
$9.99

Click for more info