SwimFin
I am a member of the Amazon Associates Program and I will earn a commission from qualifying purchases at no extra cost to you. 
Growing in popularity, the SwimFin is not only great fun for kids to wear in the pool, but it is a brilliant way to boost swimming ability and water confidence.
This type of buoyancy aid is ideal for use during swimming lessons because it is quick and easy to fit and remove and can be used with group or individual lessons.  
The Fin is secured comfortably to the back of the swimmer using Velcro straps and it works with their natural buoyancy to help achieve the correct body position gradually over time.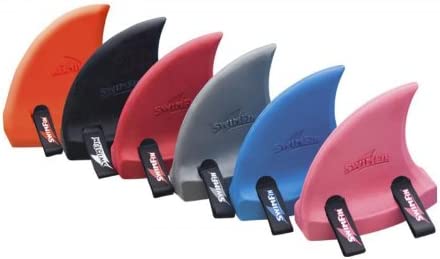 A child wearing a Swim Fin in the water will be completely buoyant and therefore completely safe.  It should be noted however that all children should be supervised in the water at all times, however 'safe' a certain buoyancy aid might be. 

For example, it helps to provide support for the beginner, whose body position will be almost vertical. Over time as the swimmer become more confident, the Fin assists and aids a more natural, horizontal position.

When a complete horizontal position is achieved, the Fin's assistance is virtually eliminated as it is above the water surface.
The overall swimming experience is enhanced by the fact that arms and legs are completely free to move and explore the water.  The freedom of the arms then allows the swimmer to develop strength and stamina by using a more appropriate and correct arm action technique. 
As for learning how to swim the Swim fin should be used in conjunction with other swimming aids.  If it is used as the sole swimming aid then the swimmer can become lazy and reliant upon the fin.  It is therefore up to the teacher to use the appropriate swimming aids and exercises to rectify this.  

Swimfin Advantages and Disadvantages
Advantages:
Works with the swimmers natural buoyancy.
Encourages correct body position.
Allows completely free movement of arms and legs.
Can be used in conjunction with other swimming aids.
Enhances and builds confidence by encouraging freedom of movement.
Disadvantages:

Where To Buy One?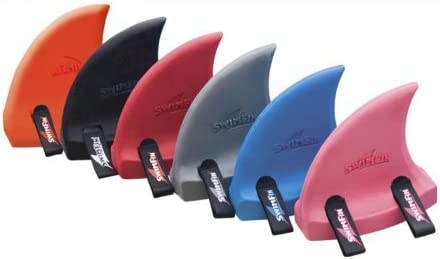 Swim Fin is available from all major online retailers.
Click here for my recommendations.
---

UK visitors click here for purchase information and reviews on Swim Fin.
---
Children using any swimming aids should be supervised at all times.  If in doubt get advice from a qualified swimming teacher.  
For more about teaching swimming lessons, including lesson planning and loads of specific exercises, download 'How To Be A Swimming Teacher'.