Breathing Technique For Breaststroke
Breathing Technique For Breaststroke
I need some help with the breathing technique for breaststroke. I signed up for swimming lessons a few months ago, and I'm at lesson 12 but still can't get my head above water to breathe. This is the last step for breaststroke. Is it merely tilting my head? Should that be done during the out-sweep or in-sweep?
Thanks for your question. It's a very common one. Very frustrating not being able to get your head above the water's surface and, therefore, not being able to breathe!

There is a little more to it than just tilting the head. Inhalation should take place as the arms sweep out and down. Notice I say 'down' and not just out-sweep. A slight downward arm pull will bring an upward movement of your body, giving your mouth and nose more chance to clear the water's surface.

It's very easy to get caught up in the whole 'I must travel a certain distance this time..' mentality as you swim. As a result, the arm pull becomes an outward circular sweep in an attempt to haul yourself through the water. The body position becomes more horizontal overall, making it hard to raise the head and breathe.
The body position for breaststroke can be an angled one, with legs being slightly deeper. This allows for easier lifting of the head and, therefore, easier breathing.
Try practising by simply walking through the water, face down and performing the arm action. Be sure to make the arm sweep and slightly downward and get a feel for the rise the movement gives you.
Walking through the water eliminates other parts of the stroke and forces you to focus only on that part. It will then be easier to transpose it back into the full stroke and hopefully work in combination with the other stroke parts.
Combine this arm action with tilting the head back to breathe, and you should get sufficient movement to inhale. Don't just rely on tilting the head, though.
I've seen many adult beginners struggle with this aspect of breaststroke so many times, and while most won't conquer it overnight, given some practice and perseverance almost all crack it eventually.
The Simple Breaststroke Book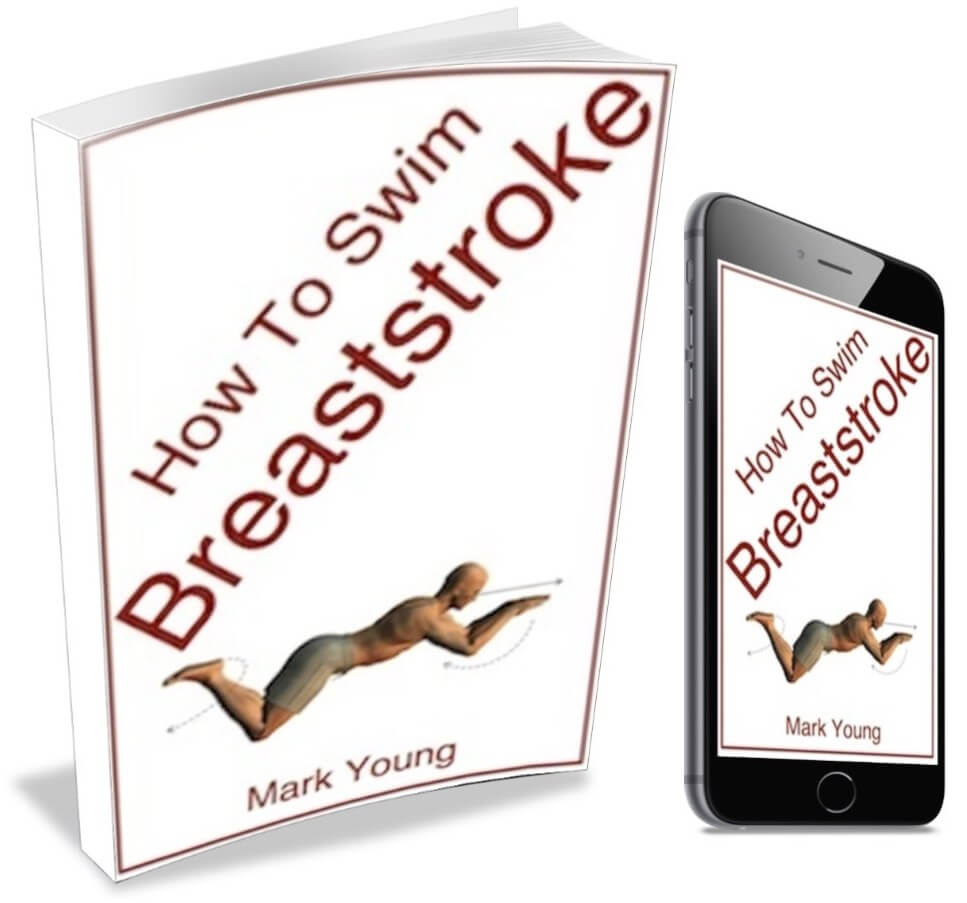 ---
Head Movement for Breaststroke Breathing
I am 70 years old and learning to swim breaststroke. My problem is coordinating breathing with the correct head movement for breaststroke breathing. I can't get my head high enough consistently to breathe in every time. I would appreciate advice on how to overcome this problem. Thank You.
Breathing is not simply a matter of lifting your head but more due to the movement of your whole body.
Two factors will determine how easily you can lift your head out of the water to breathe. Your body's ability to float and the propulsion generated from your leg kick.
Your body's ability to float depends on your relative density. Without getting into detailed physics, basically, some people float, and some people do not, and it depends on how fat or thin we are.
You can help your body to float by relaxing more in the water, which is difficult to do when you are learning to swim.
Breaststroke is performed with the body positioned at a slight angle, with the legs lower in the water. The leg kick provides most of the propulsion from the powerful whip action, and it is this whip action that will cause the body to rise slightly.
The rise of the body and lifting of the head over the water surface is then assisted by the arm action. The arm pull is outward and slightly downward, and this, together with the leg kick, will provide enough lift to breathe.
Combine all this with a nice relaxed body position, and your overall floating position in the water will be higher.
Swimming slowly can sometimes make everything easier. It is very easy when you are learning to swim to almost try too hard. To kick hard, pull hard and end up fighting your way through the water, which results in a lot of effort for little distance swum. Slow right down and feel your way through the water. You might be surprised at how far you can and how easy it is.
My best-selling book How To Swim Breaststroke contains over 20 separate swimming exercises to help all parts of breaststroke, including breathing and timing. You can download it, print out the parts you need and take them to your pool to try out.
Breathing Technique While Learning to Swim Breaststroke
I would like to know how to develop proper breathing technique while learning to swim breaststroke.
The breathing technique for breaststroke involves raising the head to face forward, and it is important to get the timing correct for it to be smooth and easy.
The first part is to ensure you correctly coordinate the arm pull and leg kick so that the breathing can fit effortlessly in between.
One of the most common breaststroke mistakes is to pull and kick at the same time. The arms pull in a circular motion, and the legs kick with power. The legs, therefore, kick as the arms extend forwards again, and the whole body momentarily glides. The breathing technique has to fit the middle of all of this.
As the arms pull back, the head rises to breathe in. Then as the legs kick around and back, the head and face submerge again to breathe out. Think to yourself to pull your head up and kick your head down again. This should occur with every stroke cycle.
As for the actual act of breathing, the golden rule is not to hold your breath. Breathe out into the water while your face is submerged. This makes the act of breathing in again more comfortable. The natural body lift of breaststroke allows a breath to be taken every stroke, so only minimal breaths are needed. Therefore there is no need to take in vast amounts of air as you swim.
Combine the above with slow, relaxed movements and with practice and patience; you should have a smooth and easy breaststroke.
My best-selling book How To Swim Breaststroke contains over 20 separate swimming exercises to help all parts of breaststroke, including breathing and timing. You can download it, print out the parts you need and take them to your pool to try out. Click the link below for more information.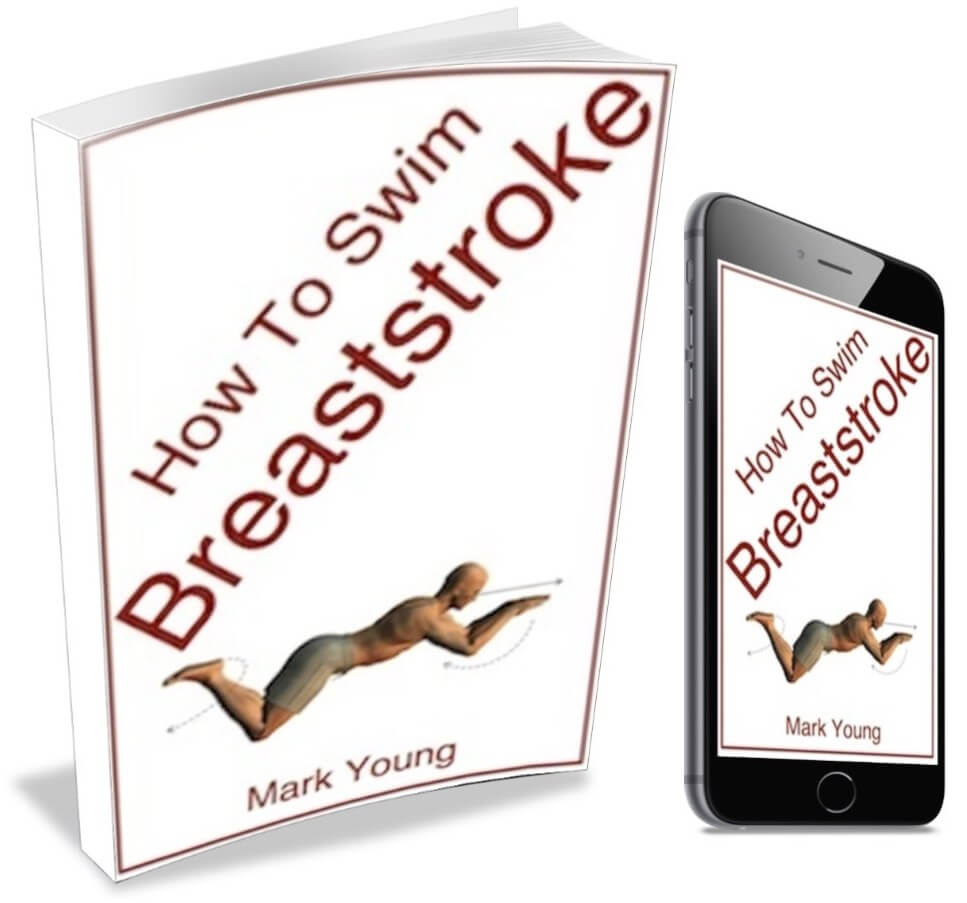 ---