Home
›
swimming equipment
› waterproof mp3 player
Try A Waterproof MP3 Player
As an Amazon Associate I earn from qualifying purchases. 
The waterproof mp3 player has become more popular with swimmers both recreational and the more serious swimmer.  This type of mp3 player along with the waterproof mp3 headphones can bring a whole new dimension to your swimming, especially if you swim long distance and long duration. 
Listening to motivating and up lifting music is common practice in the gym whilst pounding the treadmill or cross trainer.  Why should the swimming pool be any different?
Music in your ears whilst you pace up and down the pool can help to drive you and keep you going, or it can be music to chill out and relax to.

Are you one of those people who enter the pool with the intention of swimming for 30 minutes but stops and gets out after 15 because you are bored?  With an underwater mp3 player you can set up a 30 minute playlist of your favourite music, swim and let the time fly by.

Do you need motivation to swim at a certain pace or speed?  Underwater mp3 players allow you to set up a playlist of up-beat motivational music for you to keep pace with.
You could even have a balance of high speed up-beat tunes to swim followed by some calm, relaxing, chill out tunes to cool down to. 

Which WaterProof MP3 Player To Buy?
The Apple iPod is the most popular choice of mp3 player and the water resistant Shuffle is now available.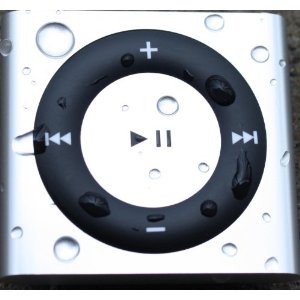 Click here for more details and where to buy.
---

UK visitors click here for an example and our recommendation of underwater mp3 players
Waterproof MP3 Headphones
Most water resistant mp3 players come with waterproof head phones but some are sold separately.
Sport headphones are usually sweat proof and therefore water proof and a wraparound neck band is especially useful for swimming.  

For a good example of waterproof head phones like the ones pictured left, click here.
Take the boredom out of the constant repetitive lengths and laps and use an underwater mp3 player when you swim!

Your underwater mp3 player checklist might contain the following:
PC or Mac Compatible
Your required memory size (2GB can hold over 500 songs)
Rechargeable Battery
Supported Formats: MP3 & WMA
Lightweight
Easy means of attaching it to goggles or swim suit
Waterproof mp3 headphones included
1 year waterproof warranty